Changes in people's attitudes on food, investment, and even COVID-19 have resulted in more money—and more deals—in the AgTech industry than ever before.
AgTech, or Agricultural Technology, is the use of technology to agriculture, horticulture, and aquaculture with the goal of increasing output, efficiency, and profitability for farm managers and producers.
For the last decade, farmers have been sluggish to embrace technology, owing to operational traditions and apprehension about investing money in technologies that are unknown and, frankly, not guaranteed to deliver a return on investment. As the agricultural labor continues to transition to entering millennials, this perspective is rapidly shifting. According to a survey conducted by Research Hub, millennials will be responsible for 75 percent of the technological transformation in the agricultural business.
This is critical, since the global value of technology and data-driven agriculture is expected to reach about USD 27 billion by 2020.
Precision agriculture will be worth USD 43.4 billion by 2025, according to HexaReports.
What Is AgTech in the First Place?
Due to technical advancements such as gadgets, sensors, equipment, and information technology, farms and agricultural operations today are considerably different from those just a few decades ago. Aerial photographs, temperature and moisture sensors, robotics, and GPS technology are all commonplace in today's agricultural operations. Agribusinesses can be more lucrative, efficient, safer, and environmentally friendly thanks to modern technologies, precision agriculture, and robotic systems.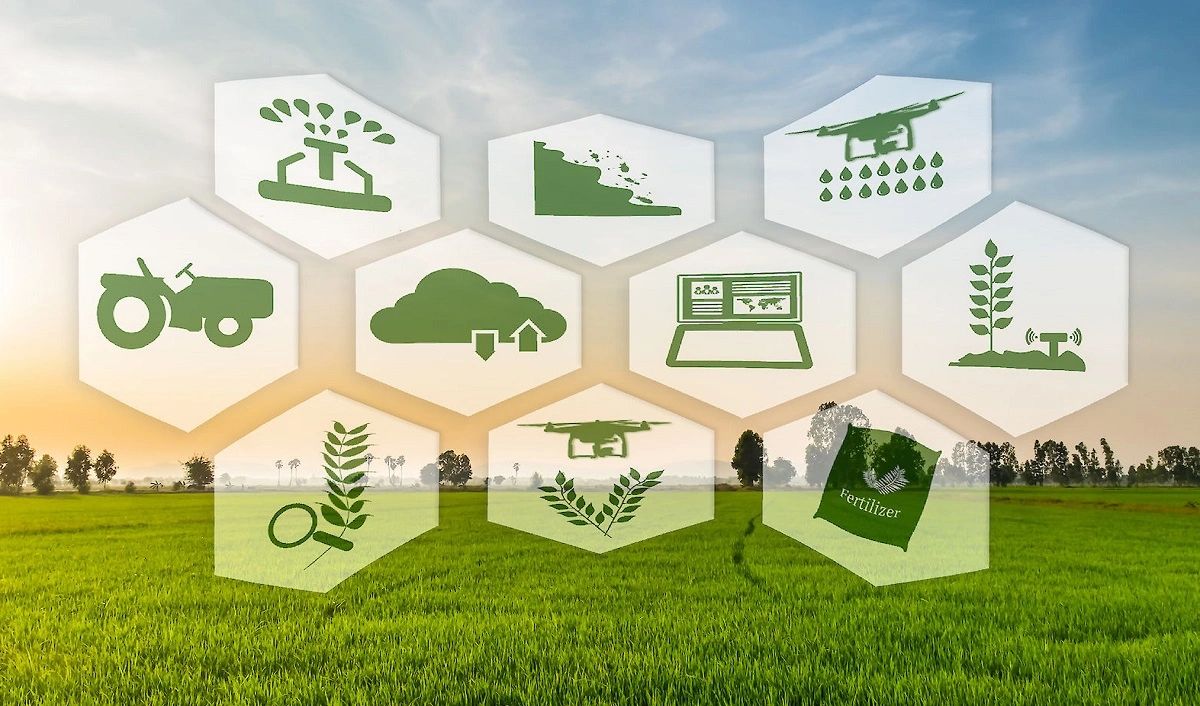 Any of the following might be used in agriculture technology:
· Drones
· Internet of Things (IoT)-based sensor networks
· Phase tracking
· Weather predictions
· Automated watering
· Light and heat control
· Intelligent software analysis for pest and disease prediction and soil management
According to Crunchbase statistics, AgTech had a record year last year, with roughly USD 5 billion committed in 440 investment transactions to VC-backed businesses. The USD 3.3 billion spent in 422 acquisitions in 2020 pales in comparison.
There were four transactions of a quarter-billion dollars or more last year:
· Pivot Bio, based in Berkeley, California, raised a USD 430 million Series D in July;
· Chicago-based Nature's Fynd, a developer of nutritional vegan protein from a microbe, closed a USD 350 million Series C in July;
· San Carlos, California-based FBN, an AgTech and commerce platform, raised a USD 300 million Series G in November; and • Goleta, California-based Apeel Sciences, based in Goleta, California, raised
That pace does not seem to be slowing down any time soon. Crunchbase data shows that more than USD 1 billion has been invested in the industry in the first month and a half of this year.
Plenty, a vertical farming firm situated in South San Francisco, California, secured a USD 400 million Series E headed by new investors One Madison Group and JS Capital, with participation from strategic partner Walmart and previous investor SoftBank Vision Fund 1. According to Crunchbase statistics, Plenty was founded in 2014 and has raised USD 940 million to far.
Plenty CEO Arama Kukutai said, "I don't feel the problem is why we're seeing this now." "The issue, in my opinion, is why hasn't more money been provided sooner?"

Point of change
People who invest in the business point to a few reasons why AgTech, which was formerly regarded to be sluggish to change and unlikely to provide huge returns, is suddenly attracting enormous sums of money.
The shifting purchasing patterns of millennials in particular, and people in general, when it comes to the flavor, nutrition, and sustainability of their food, is one of the key reasons the industry seems to have finally taken root with investors.
Sanjeev Krishnan, founder and Managing Director of S2G Ventures, a multistage startup fund focused on investments in the food and agricultural sectors, remarked, "Consumers have had a meaningful influence." "It's clear that consumers desire greater nourishment. They're looking for various flavors."
According to Kukutai, who thinks that alternative proteins and indoor farming will boost AgTech to even greater investment levels this year, consumers have altered their thoughts about when and what they want to eat at different times of the year, as well as what they want in the food they consume.
According to Krishnan, although millennials have a wide range of food habits, baby boomers have various needs as they become older. As a consequence, numerous food-production systems have arisen, including genetics, fermentation, and vertical agriculture.
Vertical farming is becoming more popular
For example, vertical farming has become a popular venture. The main idea is that food is grown in layers, one on top of the other, saving both land and water while also reducing pesticide and other chemical use.
Kalera, a Florida-based vertical agriculture startup, has announced intentions to combine with a SPAC and go public on the Nasdaq. The transaction will be completed by the end of April, according to Henner Schwarz, the company's chief commercial officer. Consumer tastes have shifted, according to Schwarz, resulting in growing interest in vertical farming and AgTech in general.
"Consumers want food that is produced locally, is ultra-clean, and does not contain pesticides," he added. "That's a significant factor."
Change in Climate and COVID
While consumer trends are the major tailwinds powering the industry, COVID seems to be raising the tide for various technology businesses, according to Schwarz.
"COVID has unquestionably been a catalyst," he stated.
According to Schwarz, several nations are attempting to boost their food production in order to enhance food security and mitigate the consequences of supply chain disruptions.
While "AgTech 1.0" focused on areas like genetics, pesticides, and fertilization, "AgTech 2.0" focuses considerably more on digitalization, data science, and alternative farming, according to Krishnan, which has helped react to COVID and the supply disruptions and labor force access concerns it produced.
"Something like digitization has become significant because consumers want supply chain awareness, they want to know agricultural output," Krishnan said, adding that owing to manpower constraints, technology surrounding automation and robotics has become more useful.
Climate change, as well as the pandemic, has forced the sector to pay greater attention to concerns like yield and supply chain visibility, according to Kukutai.
As a result of environmental and climatic changes, merchants and distributors have had to rethink how they safeguard food.
"Climate change will not occur," Kukutai said. "It's been delivered."
Investors see a way forward
The last — and possibly most significant to investors — element driving AgTech ahead is increased liquidity for AgTech investments.
Historically, selling an AgTech business to a major acquirer like Corteva or a conglomerate with AgTech tentacles like Bayer was the most probable route to an exit and liquidity for an AgTech startup investment.
However, whether via a SPAC or a typical IPO, public markets have grown increasingly open to AgTech enterprises.
Benson Hill, a food design and sustainability platform provider, and GreenLight Biosciences, an RNA design and research firm, are two recent instances of companies that have gone public, according to Krishnan.
"That's what makes it intriguing," Krishnan said of the possibility of a public market exit. "Businesses have a higher chance of generating income."
Kukutai admitted that the availability of exit options had a substantial influence on industrial investment.
"Before the current hike, we explored all alternatives," he added. "In the end, though, we chose to stay private because we believed we had strong strategic connections."
When Kalera was considering a listing in the United States, Schwarz noted there were "a number of choices accessible."
" The long-term benefit is self-evident," Schwarz remarked. "When you look at the megatrends, (AgTech) becomes a lot more appealing."
Taking AgTech to the Next Level
As previously said, as more young farmers take up farming, agricultural technology is becoming more and more widespread among producers. In this business, modern technologies are continuing to improve agricultural efficiency and productivity.
Agribusinesses can be more lucrative, efficient, safer, and environmentally friendly thanks to modern technology, precision agriculture, and robotic systems.